1-in-10 say ISPs should play a role identifying 'fake news': survey
Briefs | 11/28/2018 2:21 pm EST
There's a lack of consensus over who should help Canadians determine what counts as 'fake news', but the government, non-profits and internet service providers (ISPs) are the most likely suspects, according to polling done for the federal government this fall.
"There is no consensus on who should take charge in helping Canadians recognizing fake news, although the plurality of Canadians believe that governments should play a key role," said a public opinion research report conducted for Public Safety Canada.
About one-third of survey respondents singled-out government first to help identify "fake news" when it comes to "information about online threats and consumer protection."
That was followed by "not-for-profit organizations dedicated to electronic security" at 16 per cent, and ISPs ranked third, at 14 per cent.
Three-in-twenty didn't know who should play that role, while a smattering of other ideas received minimal support: four per cent said everyone working together, three per cent suggested software providers, two per cent said device manufactures and another two per cent suggested device retailers.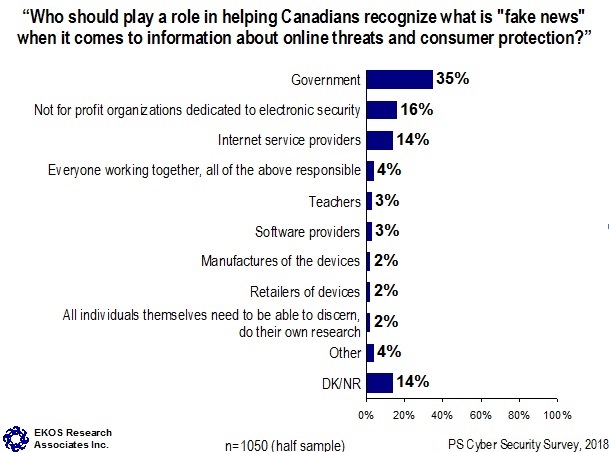 But the poll, like past research, suggests Canadians are split over just what the term 'fake news' means, exactly.
"About four in ten interpret the term to mean information that is falsely used to shape opinion or facts, although three in ten feel that it refers to information that comes from a biased source," the report said.
Another one-in-10 said they think 'fake news' is information that comes from a non-transparent source while five per cent said it's "parodies intended as a joke that are presented as factual" –– although Quebecers and Canadians 18-24 were more likely to select those two options.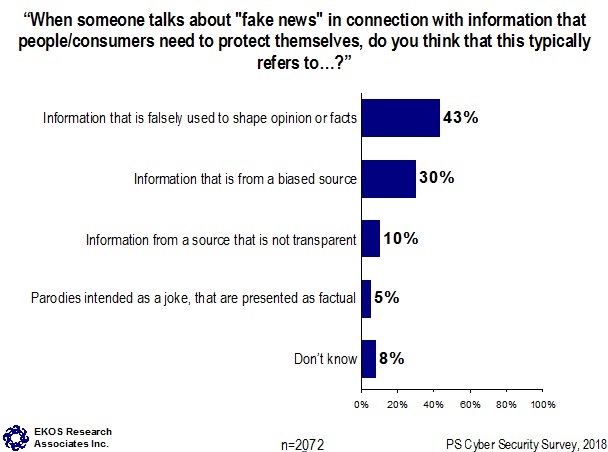 EKOS Research conducted the study for Public Safety, delving into a range of issues related to cyber security and cyber hygiene, in relation to its Get Cyber Safe public awareness campaign.
It sampled 2,072 Canadians between August 21 and September 5, 2018. The firm randomly sampled Canadian adults by phone and then had them complete the surveys online. The results come with a margin of error of plus or minus 2.2 per cent for the overall sample. The final report was published online this week.
The polling also suggests the number of victims to cyber attacks is likely on the rise, with more than half of Canadians saying they've been a victim to a virus, spyware, or malware — although the final report didn't provide comparative figures.