Majority supports fining social media for not removing fake news: CIRA poll
Briefs | 02/19/2019 4:50 pm EST
A majority of Canadian internet users say the federal government should impose fines or other sanctions on social media companies that don't remove fake news from their platforms, according to polling released by the Canadian Internet Registration Authority (CIRA) Tuesday.
Eight-in-ten respondents to an online panel poll said companies should face fines or other sanctions in instances where 'fake news' content isn't taken down after it's been reported. Of those in favour, 38 per cent said they 'definitely' believe Ottawa should attempt to prevent fake news from spreading by bringing in such measures.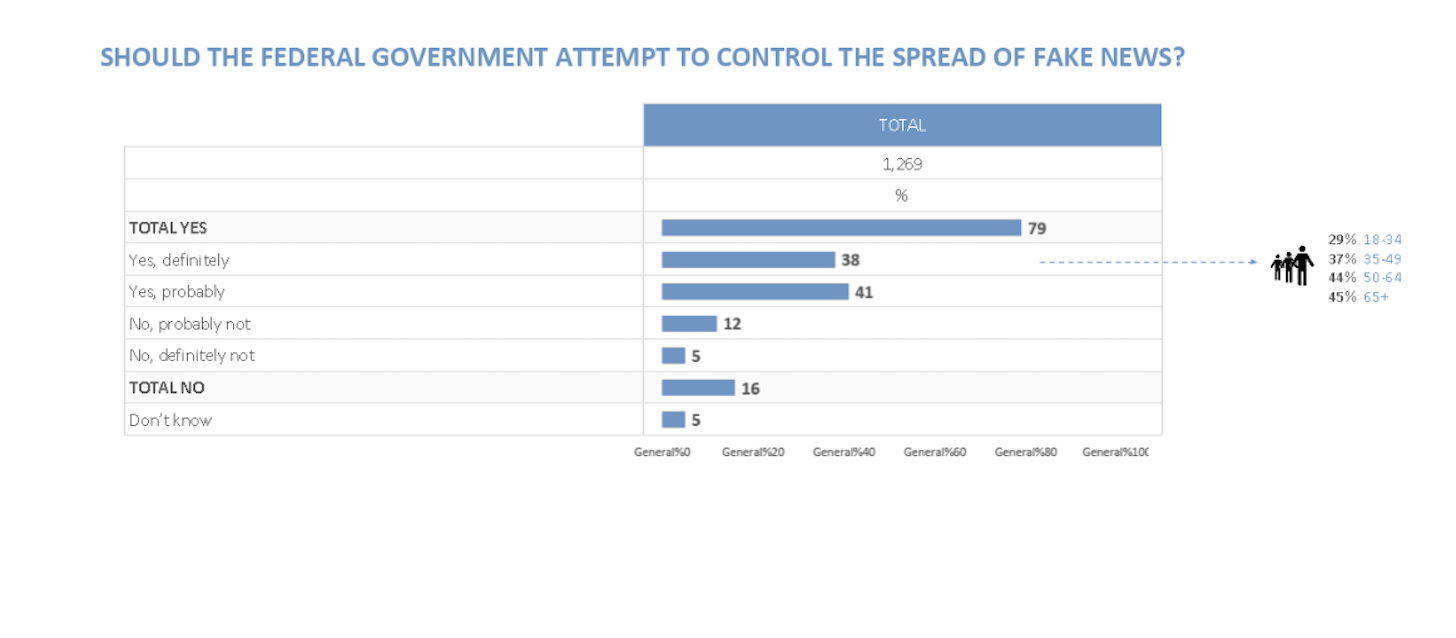 Late last year, the House of Commons ethics committee unanimously called for new rules for social media companies including financial penalties. The Liberal government will have to officially respond to those proposals this spring. Ottawa meanwhile announced last month it's freeing up $7 million to put toward digital and civic literacy projects to fight disinformation online.
Respondents to the polling said the responsibility to stop the proliferation of online fake news is split between social media companies, the press, citizens and the federal government, although they identified social media companies and the press as the most responsible for the content and government the least.
Nine-in-ten said they believe social media companies should have at least some responsibility in monitoring and removing fake news from their platforms, while half said they should have "complete responsibility."
The research was conducted by the market research firm The Strategic Counsel, and released in a report ahead of this year's Canadian Internet Governance Forum, which takes place in Toronto next week. The online panel poll sampled 1,269 Canadian adults who use the internet from Dec. 20, 2018 to Jan.  2, 2019, cutting across a swath of areas including cybersecurity, privacy, access to affordable internet and internet governance.
The poll found more than half of Canadian internet users admitted to being fooled by a fake news story online at some point.
Fifty seven per cent of adults polled said they have been "taken in by a fake news item" online, even though eight-in-ten said they are confident they could recognize fake news stories online.
Three-quarters said they "at least sometimes" encounter fake news online, and 70 per cent are concerned fake news could affect the outcome of the October federal election — a figure consistent with past polling research.